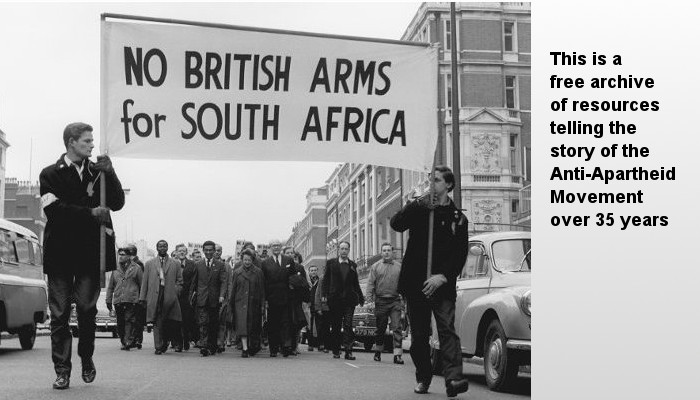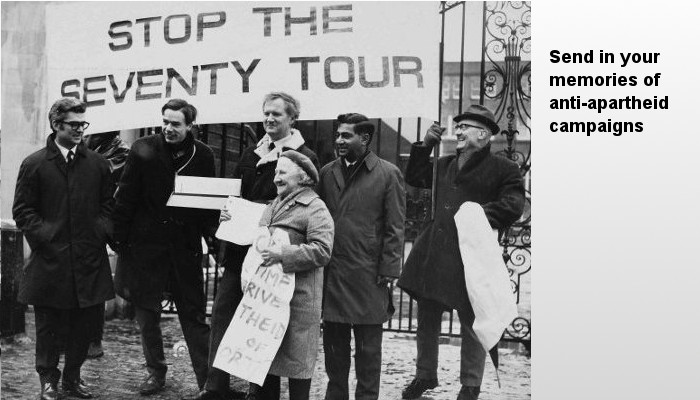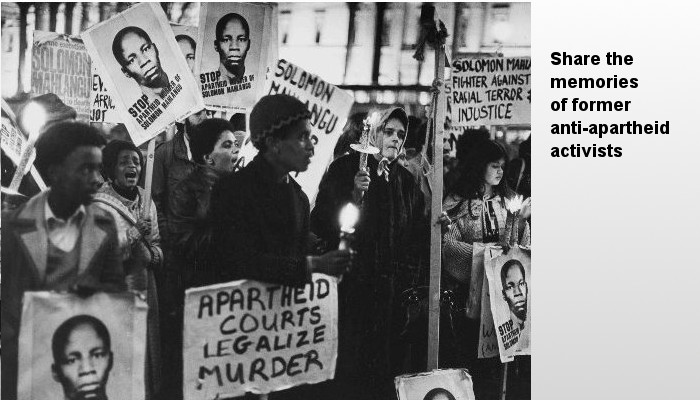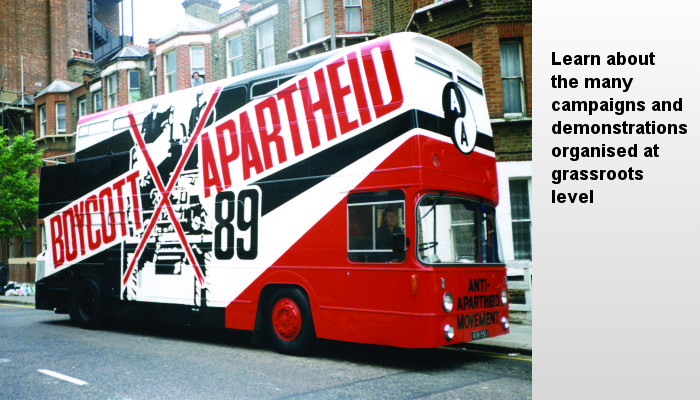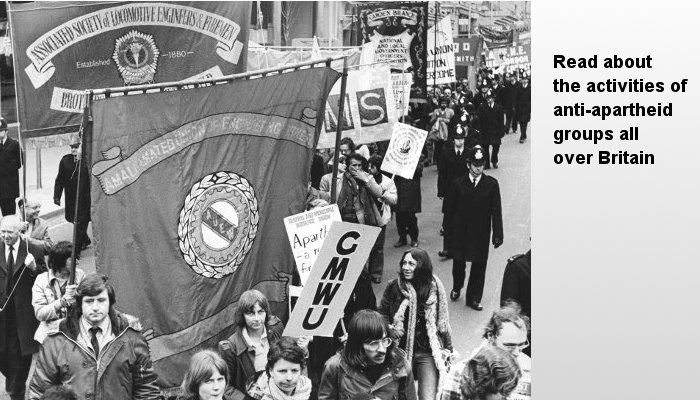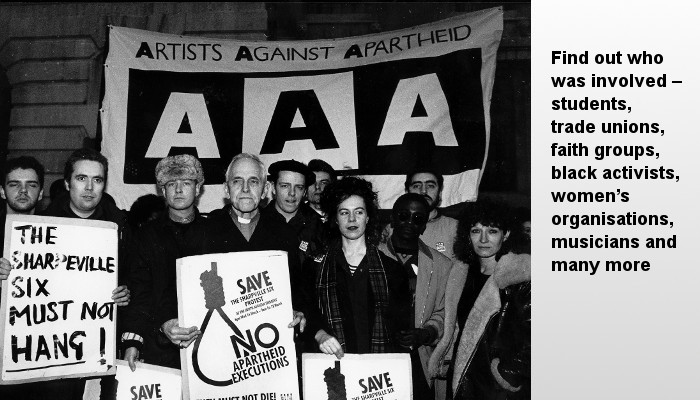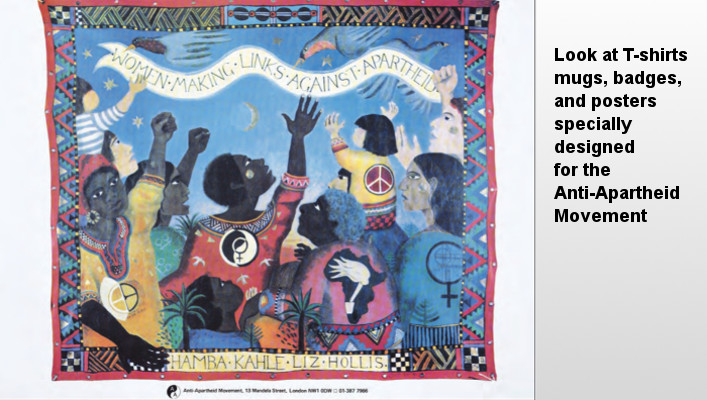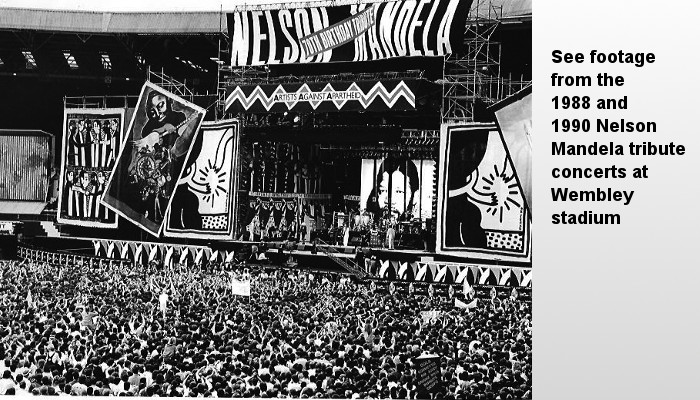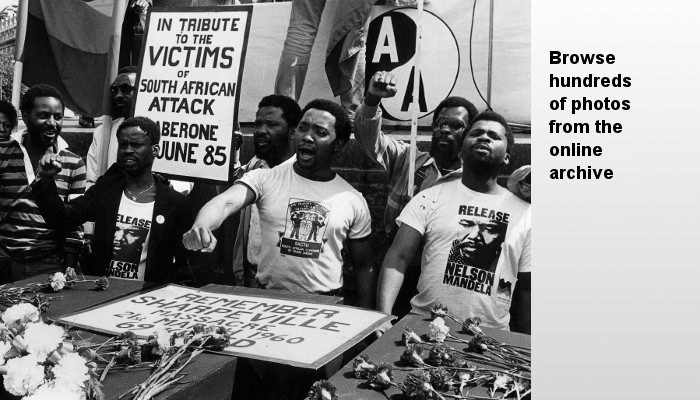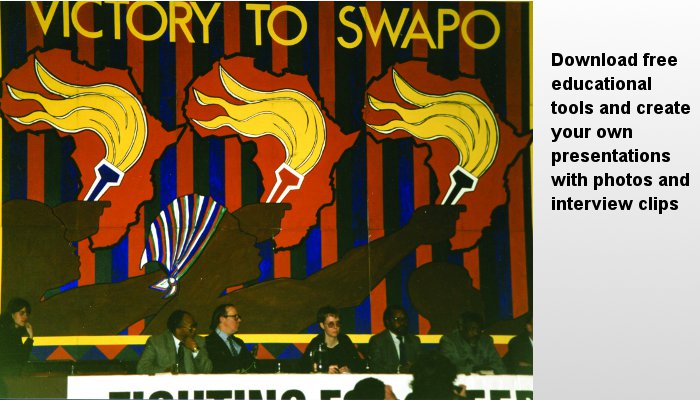 Forward to Freedom
Forward to Freedom tells the story of the British Anti-Apartheid Movement and its campaigns to support the people of South Africa in their fight against apartheid. The AAM also campaigned for freedom for Namibia, Zimbabwe, Mozambique and Angola, and against South Africa's attacks on its neighbours.
On this website you can find out how hundreds of thousands of people all over Britain took part in anti-apartheid activities. You can watch demonstrations and concerts, and hear from some of those involved. We hope you will find it interesting and look forward to hearing from you. Please send your feedback and questions to
The website is part of a wider education project set up by the AAM Archives Committee that includes a pop-up exhibition and learning resources. It has been funded by the Barry Amiel & Norman Melburn Trust and the Heritage Lottery Fund, and organised in partnership with Action for Southern Africa (ACTSA).
The AAM archive is held at the Bodleian Library, University of Oxford and is open to researchers on application for a Bodleian reader's card. The archive of Wales AAM is at the National Library of Wales, Aberystwth and that of the Scottish AA Committee at Glasgow Caledonian University. Records for many local AA Groups, such as Bristol, Birmingham and Edinburgh, are held at local record offices – see 'Other Links'.
Follow us on Twitter: @aamarchives
The Scottish Centre for Global History at the University of Dundee is running a four-part podcast series on the history of the Anti-Apartheid Movement. SCGH editor Paul Feeney talks about how the AAM grew from small beginnings in the 1960s into one of the biggest social movements of the 20th century with historians Matt Graham and Chris Fevre. The podcasts also discuss the legacy of anti-apartheid campaigning and its relevance to contemporary movements for social change. You can listen to the podcasts here.

A project to convert the former London office of the African National Congress in Islington into a Centre of Memory and Learning has been launched by The Liliesleaf Trust UK, with the AAM Archives Committee and other groups. It has support from the GLA's Good Growth Fund. Building plans are on hold because of the Coronavirus crisis, but community engagement is ongoing. As part of Islington's Black History Month and supporting learning from and about diverse histories, the Trust created two family activities that invite design ideas for a community learning garden – see our educational resources page

Pitch Battles: Sport, Racism and Resistance by Peter Hain and Andre Odendaal tells how apartheid South Africa was thrown out of world sport. Watch the book launch organised by Swansea Stand Up to Racism to hear how the campaign against the 1969-70 Springbok rugby and cricket tours is still relevant to today's fight against racism in sport. Pitch Battles is published by Rowman & Littlefield International and is available from all good booksellers.
A fascinating new film, The Blindside, tells the story of Cape Town students who took direct action against the British Lions rugby game against the Springboks at Newlands stadium in 1974. You can
...
Former activists tell their stories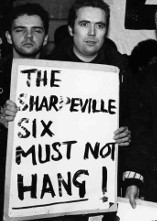 A significant part of this project was to record the experiences of former activists in Britain. Jerry Dammers formed the Specials in Coventry in 1977.
An anti-apartheid activist from his school days he helped start Artists Against Apartheid in the UK to campaign and help enforce the cultural boycott.
He wrote the song, Free Nelson Mandela, which became an international hit and helped raise awareness of the plight of Mandela and political prisoners in South Africa.
You can hear him talk about writing the song.
Learn about the history of the Anti-Apartheid Movement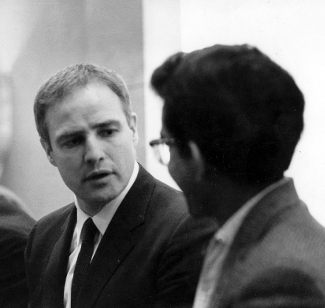 In 1964 Marlon Brando asked film directors, actors and producers to forbid the screening of their films before segregated audiences in South Africa on a visit to London.
In this photograph he is at a press conference with the Anti-Apartheid Movement's Hon. Secretary Abdul Minty.
The Rolling Stones broke off negotiations for a South African tour and the Beatles announced they opposed apartheid.
Read more about this history starting with the Boycott Movement in 1959, through the 1960s, 1970s, 1980s and 1990s.