The Anti-Apartheid Movement campaigned against the supply of weapons and for an end to all military collaboration with South Africa. In the early 1960s Britain was South Africa's major arms supplier. The 1964–70 Labour government imposed an arms embargo, but continued to supply spare parts for weapons like Buccaneer bombers.
EMBARGO LIFTED
In 1970 the AAM protested when the embargo was lifted by the Conservative Prime Minister Edward Heath. The Heath government supplied naval helicopters but opposition from within Britain and the Commonwealth prevented it from agreeing a major arms deal.
UN MANDATORY ARMS BAN
After the murder of Steve Biko by South African security police in 1977, the UN imposed a mandatory arms embargo. But throughout the 1980s the Conservative government carried on exchanging military expertise and personnel with South Africa. The AAM sent memoranda and delegations to the British government asking it to tighten the embargo. In 1979 it initiated the World Campaign against Military and Nuclear Collaboration with South Africa. The Campaign submitted evidence to the special UN committee set up to monitor the embargo and exposed violations by the UK and other Western countries.
NUCLEAR BOMB
From the late 1970s South Africa developed its own nuclear weapons with help from West Germany and Israel. It ended its nuclear programme in 1989, just before the release of Nelson Mandela and the opening of negotiations for a democratic constitution.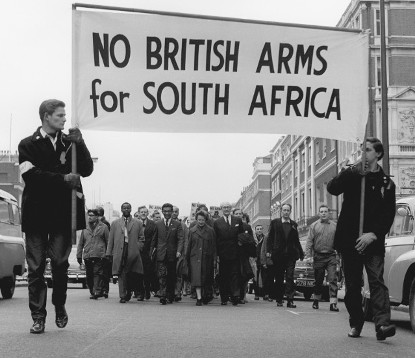 AAM march and rally in central London 17 March 1963. Copyright © Henry Grant Collection/Museum of London
CLICK HERE FOR ARMS EMBARGO DOCUMENTS & PICTURES