SWAPO LEADERS SENTENCED TO HANG
In 1964 a worldwide campaign saved the lives of Nelson Mandela and the other Rivonia trialists. At the UN a General Assembly resolution called for their release and a petition signed by hundreds of thousands of people all over the world asked the South African government to abandon political trials.
Twelve years later in 1976, two leaders of the South West Africa People's Organisation, Aaron Mushimba and Hendrik Shikongo, were saved from the gallows by an international campaign.
SOLOMON MAHLANGU
As guerrilla fighters from Umkhonto we Sizwe infiltrated back into South Africa at the end of the 1970s, the South African government again imposed death sentences on political prisoners. Some, like Solomon Mahlangu and the Moroka Three, were hanged, but many more were saved after international protests. In Britain the protests were led by Southern Africa the Imprisoned Society (SATIS), which worked with the UN Special Committee against Apartheid to internationalise its campaigns.
SHARPEVILLE SIX
One of the highest profile cases was that of the Sharpeville Six. The Six were unarmed local residents, convicted of murder in 1985 after joining a demonstration at which a black deputy mayor was killed. After two and a half years on death row, they won a last-minute reprieve. In response to widespread public protest in Britain, Prime Minister Thatcher met the sister of one of the accused and intervened with South African President P W Botha.
SECRET HANGINGS
In the late 1980s many more political prisoners were sentenced to death and some were hanged in secret. They included trade unionists convicted for actions that were part of their struggle for better working conditions. British trade unions initiated high profile campaigns in defence of South African workers.
In 1990, after Nelson Mandela's release, over 70 political prisoners were still held on death row. In spite of an agreement between the South African government and the ANC in the Pretoria Minute of August 1990, many of them were only freed after protests from inside and outside South Africa.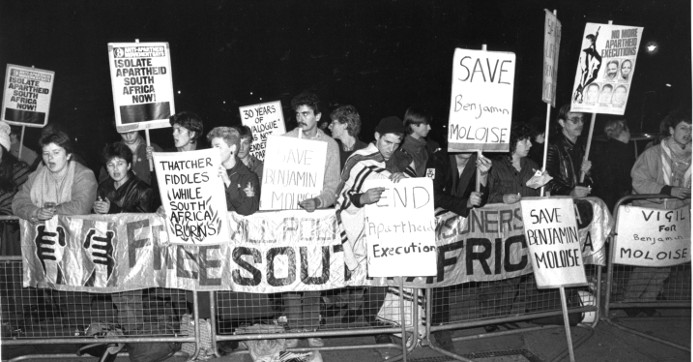 All-night vigil for Benjamin Moloise, a young Umkhonto we Sizwe freedom fighter hanged on 18 October 1985. He was convicted in June 1983 on a trumped up charge of murdering a South African security policeman. Copyright © Paul Mattsson