Black History Month
Congratulations to the students who won prizes and commendations in the 'Make a Memorial to Oliver Tambo' schools competition held to celebrate the centenary of Tambo's birth in October 2017. The competition was organised by Park View School in Haringey, north London, in partnership with the Anti-Apartheid Movement Archive, Action for Southern Africa (ACTSA) and Brand South Africa.
There were cash prizes for three age ranges: Key stage 2 primary school pupils (7–11); Key stage 3 secondary school students (11–14); Key stage 4 and 5 secondary/sixth-form college students (14–18). Entries included poems, paintings, sculptures, websites – and a board game. Oliver Tambo's family lived in Haringey during their years of exile from South Africa.
'We were overwhelmed by the amount of entries,' said Daniel Lyndon, lead practitioner in Humanities at Park View. 'At the school we set this as Year 7 homework so they've had six weeks to do the project and in total nine schools in Haringey have submitted entries. It was important to raise awareness about the work of Oliver Tambo. He's not as well-known as he should be, so this was a good opportunity to celebrate his contribution in fighting for equality and freedom.'
One of the winning entries was a poem called '30 Years' by Precious, aged 17, from Tottenham, who goes to Greig City Academy. 'I didn't know anything about Oliver Tambo before this competition but I found researching him and his life really interesting', she said. 'I took two days over this poem and was shocked to win because there was so many talented entries out there.'
'I made a wire sculpture of his head', said another award-winner, Stanley, aged 12, a pupil at Park View. 'He was an amazing man who sacrificed so much and did his bit to change the world for other people who are suffering.'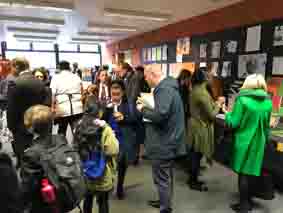 A prize-giving event was held at Park View on 2 November. The many diverse memorials were displayed with a 'top table' featuring the winning entries for the different age groups. Those present included former anti-apartheid activist and Cabinet Minister Peter Hain, Tottenham MP David Lammy and the Leader of Haringey Council, Claire Kober. The school's Drama Group made a stunning music and drama presentation based on Nelson Mandela's funeral eulogy for Oliver Tambo. Another student played his own keyboard arrangement of 'Nkosi Sikelele', South Africa's national anthem.
Special thanks to Lela Kogbara, Tim Spafford, Dan Lyndon and Martin Spafford for organising the competition, and to Brand South Africa for sponsorship.