SOUTH AFRICA EXPELLED FROM THE OLYMPICS
By 1990, South Africa had been expelled from every major world sports federation. In the 1960s the Anti-Apartheid Movement worked with the South African Non-Racial Olympic Committee (SANROC) to get South Africa excluded from the 1964 Tokyo Olympics.
South Africa was expelled from the Olympic movement in 1970. Rugby and cricket were the biggest sports played by whites in sports-mad South Africa. From the mid-1970s international teams included token black players, but sport within South Africa was strictly segregated.
STOP THE SEVENTY TOUR
In Britain the turning point came in 1969–70. The AAM and Stop the Seventy Tour organised demonstrations and direct action at every match played by the Springbok rugby team on its 23-game tour of Britain. Faced with widespread disruption, the following summer's cricket tour was cancelled.
South Africa's all-white rugby board had close links with the British rugby establishment. In the 1970s and 1980s they worked together to break the boycott. In Wales, the Welsh Rugby Union finally agreed to sever all links with apartheid rugby in 1989 after a long campaign by Wales AAM.
THE GLENEAGLES AGREEMENT
Commonwealth countries played a big part in the isolation of apartheid sports teams. The 1977 Gleneagles Agreement pledged Commonwealth governments to discourage their citizens from competing against sportspeople from countries where sport was organised on a racial basis.
The campaign provoked debate about bringing politics into sport. The AAM argued that apartheid ran counter to the sporting ethos: that all should be eligible and that the best team should win.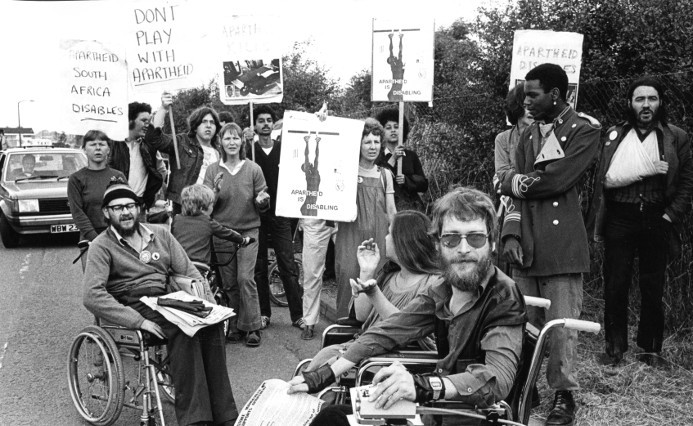 Disabled AAM supporters picketed the opening day of the International Stoke Mandeville Games, forerunner of the Paralympics, in July 1981. They were calling for South Africa to be barred from the Games. Copyright © Tessa Howland/IFL