int27t. Tim Oshodi transcript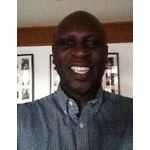 Tim Oshodi joined the Anti-Apartheid Movement as a student activist in 1985. He was Chair of the London School of Economics AA Group and took part in an occupation of the LSE to pressure it to disinvest from South Africa. He was a researcher for the AAM's disinvestment campaign, and a member of the AAM National and Black Solidarity Committees. He was a founding member of Friends of Simukai, an group that worked in solidarity with freedom fighters in Zimbabwe. Tim is currently involved in solidarity work with South African based housing activists.
This is a complete transcript of an interview carried out as part of the 'Forward to Freedom' AAM history project in 2013.
| | |
| --- | --- |
| Category: | Tim Oshodi |
| Copyright: | AAM Archives Committee |
| Holding Institution: | AAM Archive, Bodleian Library |