int46t. Baroness Chalker of Wallasey transcript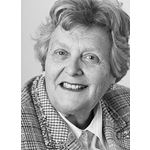 Lynda Chalker was MP for Wallasey from 1974 to 1992 and served as a minister in successive Conservative governments from 1979 to 1997. Since 1992 she has sat in the House of Lords as Baroness Chalker of Wallasey. As Minister of State in the Foreign Office from 1986 to 1997, her responsibilities included relations with Africa and the Commonwealth and she was one of the key figures in the British government's relations with South Africa in the period 1986–94. From 1989 she served as Minister for Overseas Development. Baroness Chalker now travels widely in Africa as Chair of the consultancy Africa Matters.
This is a complete transcript of an interview carried out as part of the Forward to Freedom history project in 2014.