int01t. Lord Hughes of Woodside transcript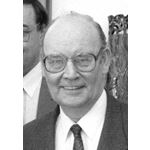 Bob Hughes MP was the Chair of the Anti-Apartheid Movement from 1976 to 1995. He was the Labour MP for Aberdeen North from 1970 to 1997 and served as Under Secretary of State for Scotland in 1974–75. He now sits in the House of Lords as Baron Hughes of Woodside.
This is a complete transcript of an interview carried out in 2000 by Håkan Thörn.
| | |
| --- | --- |
| Category: | Lord Hughes of Woodside |
| Copyright: | AAM Archives Committee |
| Holding Institution: | AAM Archive, Bodleian Library |