int10t. Lord Frank Judd transcript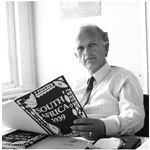 Frank Judd was a Member of Parliament from 1966 to 1979. During the 1966–70 Labour government he was one of a group of Labour MPs who opposed the government's attempts to reach a settlement with the illegal regime in Rhodesia that fell short of majority rule. He was also on the Executive Committee of the Committee for Freedom in Mozambique, Angola and Guiné. He served as a Minister in the 1974–79 Labour government. Since 1991 he has sat in the House of Lords as Baron Judd of Portsea.
This is a complete transcript of an interview carried out by Christabel Gurney in 2000.
| | |
| --- | --- |
| Category: | Lord Frank Judd |
| Copyright: | AAM Archives Committee |
| Holding Institution: | AAM Archive, Bodleian Library |