int20t. Patsy Robertson transcript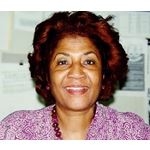 Patsy Robertson grew up in Jamaica and came to Britain in the late 1950s. She joined the staff of the newly formed Commonwealth Secretariat in 1965 as its press officer. She was Director of Information and Official Spokesperson for the Commonwealth throughout the years when it played a central role in international opposition to apartheid.
This is a complete transcript of an interview carried out by Håkan Thörn in 2000.
| | |
| --- | --- |
| Category: | Patsy Robertson |
| Copyright: | AAM Archives Committee |
| Holding Institution: | AAM Archive, Bodleian Library |